INDEPENDENT FILMMAKERS SHOWCASE
IFS FILM FESTIVAL
"A magnetic north for any Cinephiliac"
- Lana and Lilly Wachowski (The Matrix / V For Vendetta / Cloud Atlas)
IFS NEWS
The IFS Film Festival Is Here!
Visit the 26th Annual IFS Los Angeles Film Festival May 9th - 20th 2018.
Screenings held at The Grove of Los Angeles & premiere cinemas across Los Angeles, Beverly Hills, and Santa Monica.
IFS 26th annual LA Film Festival tickets go on sale April 20th at 11am.
The stars come out at the IFS Film Festival.

IFS Film Fest 2018 presents a festival line-up of new films from or featuring Neill Blomkamp, Jeff Bridges, Margot Robbie, Christian Bale, Greta Gerwig, Seth Rogen, Marisa Tomei, Piper Laurie, Brooke Adams, Kate Mulgrew, Jane Lynch, Minnie Driver, Helen Slater, Rebecca Miller, David Banner, Steven Culp, Tom Everett Scott, Peter Stormare, Mark Boone Junior, Robert Picardo, Patrick Fugit, DJ Qualls, Stephen Tobolowsky, Richard Riehle, Walter Koenig, & Gigi Edgley, along with our legendary curated cinema showcases featuring the best new filmmakers.
Cinema icons Werner Herzog, Gary Oldman, Guillermo Del Toro, Jodie Foster, Taylor Hackford, Adrian Lyne, John Badham, Nicholas Cage, Warren Beatty, James L. Brooks, as well as musicians Carlos Santana and Ben Harper all appear in IFS documentary film showcases this year.
IFS Film Festival has premiered Paul Thomas Anderson's Inherent Vice, David Cronenberg's Map To The Stars, Lars von Trier's Nymphomaniac, Harmony Korine's Spring Breakers (starring James Franco), and Tom Ford's Nocturnal Animals (starring Amy Adams and Jake Gyllenhaal).
IFS Guests include Malcolm McDowell (A Clockwork Orange), Rosanna Arquette (Pulp Fiction), John Hillcoat (dir. The Road), Michael Madsen (The Hateful Eight / Kill Bill), Rick Glassman (NBC's Undateable), Blake Clarke (The Waterboy), Illeana Douglas (Ghost World, Goodfellas), Jesse James (The Butterfly Effect), Dominique Swain (Lolita), and the amazing Karen Gillan (Dr. Who, Guardians of the Galaxy).
IFS Film Fest has hosted event screenings for Quentin Tarantino's The Hateful Eight, John Hillcoat's Triple 9, Jim Jarmusch's Paterson, Atom Egoyan's Remember, the Ryan Gosling and Emma Stone musical La La Land (from director Damien Chazelle), A Perfect Day (featuring Benicio Del Toro and Tim Robbins), as well as the re-release of ROAR starring Melanie Griffith and Tippi Hedren.
New independent cinema premieres from producers Jane Fonda, Robert Zemeckis, Jon Peters, James Franco, Richard LaGravenese, William Shatner, Tim & Eric and Stan Lee screen at this years IFS Film Festival alongside premieres from directors John Lee Hancock, Madchen Amick, Eric Stoltz and IFS curated retrospectives honoring Tom Noonan, Eric Bogosian, and Kenneth Anger.
Films starring Gena Rowlands, Ralph Fiennes, Donald Sutherland, Danny Glover, Lacey Chabert, Olivia D'bo, John Ennis, Brendan Small, and Lou Diamond Philips screen at IFS, with films featuring original scores by Warren Ellis, and Lee Ranaldo, as well as IFS documentaries that feature Carl Reiner, Rob Reiner, Burt Reynolds, Danny Trejo, Talia Shire, Eva Haller, Ralph Macchio, Sylvester Stallone, and Martin Scorsese.
Lana & Lilly Wachowski, Julianne Moore, Brandy, Fred Willard, Jane Seymour, Nile Rodgers, Mary Lynn Rajskub, Amber Tamblyn, Tom Sizemore, David Cross, Lauren Holly, Priscilla Barnes, Doug Jones, and James Earl Jones are just a few of the notable past honorees and guests of the IFS/Los Angeles Film Festival.
IFS Film Fest at the Grove of Los Angeles and the W Hotel Hollywood.
IFS Film Festival screenings, award celebrations and special events to be held at the world-famous Grove of Los Angeles entertainment-retail complex & tourist destination. including over 200 screenings at cinemas across Los Angeles, Beverly Hills, & Santa Monica, with after-parties at the W and other Hollywood event spaces.
IFS proudly hosts over 200 film premieres to represent the best new and independent cinema from all over the world from the past year, at our IFS Film Festival. Indpendent Filmmaker Showcase Film Festival screenings are held in Los Angeles, Beverly Hills, & Santa Monica cinemas. IFS Festival films are chosen by democratic voting from the 15o+ IFS Film Society Membership.
Stay tuned to see what new films will be unveiled to premiere at the upcoming IFS LA FILM FEST.
Independent Film Screening Events
IFS promotes independent filmmaking with IFS Membership Film Events.
Hosted at our IFS Screening Rooms and other Los Angeles venues, IFS also supports film events from local cinema groups, Artsploitation Films and Laemmle Theaters

Check out our IFS Monthly Film Showcase page to see upcoming events in L.A.:
| | | |
| --- | --- | --- |
| Sep 18th | The Body Beneath | 9:00pm |
| Oct 9th | Billion Dollar Brain | 9:00pm |
| Oct 16th | The Ruling Class | 9:00pm |
| Nov 6th | To Kill A Clown | 9:00pm |
| Dec 11th | Two-Lane Blacktop | 9:00pm |
| Dec 18th | Shockproof | 9:00pm |
| Jan 16th | Atlantic City | 9:00pm |

Get your tickets for the upcoming Monthly Showcases
Nobu Yamaoka Retrospective at the Independent Filmmakers Showcase in Los Angeles
Nobutaka Yamaoka Retrospective
IFS Showcases is so proud to exhibit this major retrospective of the feature film work of brilliant Japanese director Nobutaka Yamaoka. Philosophical Sci-Fi masterpieces otherwise unavailable with English subtitles anywhere else, only seen in a theater.
| | | |
| --- | --- | --- |
| Sept 18th | Pigs Inferno | 11:30pm |
| Oct 9th | Children Who Won't Die | 11:30pm |
| Oct 16th | Planet Megadolce | 11:30 pm |
| Nov 6th | Pickled Punk | 11:30pm |
| Dec 11th | Fix | 11:30pm |
| Dec 18th | Zeki, Florian, Kelly | 11:30pm |

Get your tickets for the upcoming IFS Monthly Showcases
IFS Screenplay Competition
The IFS is committed to the discovery and growth of new talent in every aspect of filmmaking. Submit your screenplay or teleplay today to the Independent Filmmakers Showcase Screenplay Competition and have your script read by current and former entertainment journalists and industry professionals. Coverage and Analysis available.
: David Strathairn in
No God No Master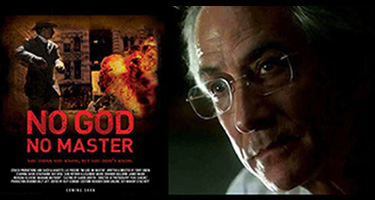 IFS FEST PROGRAM